*This post may contain affiliate links which implies that I may receive commission if you purchase through the links that I have provided (this happens at no extra cost to you). Here is my full affiliate disclosure.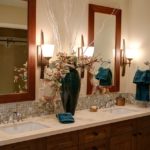 A decision to buy a double sink bathroom is crucial. This quick guide offers an in-depth explanation regarding the importance of having a double bathroom sink. Moreover, it explores a considerable number of bathroom ideas and more so the master bathroom ideas.
If you are remodelling your master bath or designing the master bathroom for your upcoming home, you need to know the most appropriate master bathroom ideas. What size of tub do you need? What color will you paint your walls? With the help of your friend or a spouse, figuring these could be much easier without necessarily seeking help from a professional designer. This is because the choice you need to make largely depends on your taste.
However, when it comes to choosing the right bathroom sink, you need to invest lots of thoughts about it. Do you need a single or double sink bathroom? This is one of the classic debates that most spouses find themselves stuck. Between the two types of sinks, a double sink is the most modern. If you are still questioning your decision to construct two bathroom sinks, then worry not because you are in the right place to find answers. In this article, I will give you some of the best reasons why having a double sink bathroom in your home is beneficial.
What are the Benefits of Having a Double Sink Bathroom?
(I) It Saves You Time
One of the main reasons why a double sink adds value to your home is that it is suitable for busy couples is that it enables them to save time. Think about this, you and your partner have to wake up early each day. Sometimes you might find yourself oversleeping, which is quite normal.
However, if you are late for work, it means that there is no time to waste. If you have to take turns using the sink, then you might experience even more delays. Among the best bathroom ideas is to consider having a double bathroom sink. This is because it means that both of you can use the sink at the same time thus cutting on the time spent in the bathroom.
(II) A Double Sink bathroom is Attractive
Most couples find a double bathroom sink to be attractive. If you have a double sink installed in your bathroom, then you have two options when it comes to installing bathroom vanity mirrors.
You can either choose to use one large mirror which serves both sinks or install two mirrors for each of the sinks. Either case, having a double sink bathroom enables you to perform your morning or evening rituals with much comfort.
(III) The Sink Adds Value to Your Home When Selling it
Are you looking to sell your home pretty fast in the future? If you might need to sell your home in the future, you need to consider the high-quality master bathroom ideas and other pertinent bathroom ideas. Investing in a double sink bathroom could earn you some extra money because it makes the room look more luxurious.
Additionally, most couples like having two sinks so that each can have one to use when they need to save time. If you do the installation in the right way and ensure that everything is perfect, then you might have something worth smiling for when disposing of your property.
(IV) Provides Personal Space
Think about how annoying it can be when someone spits toothpaste on you as you try to wash up.
Disgusting, right?
To save yourself from such embarrassing moments, you need to have a double sink bathroom in your home. Ideally, having two sinks means that your shaving kit, moisturizers or even makeup can stay intact without being knocked by your partner.
While doing your daily rituals in the bathroom, there are some things that you don't want your partner to see or vice versa. For instance, staring at your partner's toothpaste residue might not be the sweetest thing that you want to.
This is why having a double sink bathroom is important as it provides you with personal space to do your stuff without limitations. Doesn't double sink add value?
Cons of Having a Double Sink Bathroom
One of the issues that hinder most people from installing a double bathroom sink is the limited space in their bathrooms. It is quite obvious that having two sinks could crowd your bathroom.
If you lack enough space between your double sink vanities or enough counter space, then you won't achieve much comfort. Additionally, its effects are not pleasing since it might discourage future buyers when you want to sell your home.
Something else that scares most people is the cost involved in installing a double bathroom sink. Getting the job done could be costly, from buying the mirror, bathroom vanity assemblies and the cost of plumbing. Plumbing two sinks are considerably expensive as compared to plumbing one sink.
How to Work Around Problems
Despite the problems that face double sink bathroom installation, with proper planning, navigating the issues is made easier. So, before you give up on your aspirations to having your sink to enable you to undertake your morning rituals with comfort, here are the options to consider.
If you have a small bathroom space, then it is possible to use double sink vanities using surface mounted sinks on the countertop. This will provide you with more space that you can use in keeping shaving supplies, moisturizers, cleansers at the base of the sink basins.
By using this strategy, you will be able to get enough splash spaces for you and your partner, without making a mess or fighting over the sink. Additionally, it provides you with storage space.
Sometimes you could be having extremely limited space. If you are not willing to completely rebuild your bathroom or knock out a wall, then you should consider using a single larger sink with two partitions.
If you find it completely difficult then, you should seek advice from an interior designer before making major decisions concerning your bathroom ideas.
Having double sink bathroom is great for shared bathrooms since it provides higher efficiency and it adds value to your home when you need to resale it.
Double Sink Bathroom Installation Process
There are various methods of installing dual bathroom sinks. However, the basic step is to determine whether you need a detached or attached design, one contiguous or standalone pieces.
Upon selecting the former for installing the two sinks, there is a high chance that each will sit atop a counter piece or a single bathroom vanity. Alternatively, you can choose to buy a piece with sinks already built in.
In standalone double sink bathroom, the sinks may sit with buffering space in between, next to each other or on their separate bathroom vanities. When deciding on whether to use in detached or attached double sinks, you should be guided by the amount of space available and your style of preference.
When it comes to choosing a design, there are lots of styles to consider. You can decide to buy trim, and slim tabletop bathroom vanity that is built with two sinks dropped in.
Alternatively, if your bathroom has enough space consider acquiring granite countertop slab that is built with two sinks. Expansive or sleek, conjoined or standalone, double bathroom sinks offers you a unique style and convenience when updating your bath space.
Hooking Up The Second Sink
More bathroom ideas? More master bathroom ideas? Do you need to install another sink in your bathroom? If you have a single sink then you might decide to add another one at some point, the goodness is that the process is simple.
Installing a second sink will also save you both time and money especially when installed next to an existing one. This is because you don't need to make an installation of new water pipes into the wall when you are constructing the drainage hookup.
When setting up the double sink bathroom, the sinks should not be installed more than 20 inches apart from their centres. If you are installing the bathroom vanity tops with different heights, ensure that the new sink is not more than six inches taller than the sink already installed.
If you are going to seek the assistance of a plumber in doing the installation, the process will be more straightforward. What you only need to do is to find not less than two estimates, check their licenses and insurance.
If you can get references, then it would be better. The process of extending the supply and waste lines and hooking up the sink should take less than a day before getting everything ready for installation.
Even though the plumbing is done in the open, it is critical to ensure that you have the right skills if you will be doing the project on your own. You do the plumbing to avoid errors which might delay the project completion. Here are the steps that you need to follow:
Shut off the water and install the new T-fittings. After installing the T-fittings, let water flow to the new sink.
In adapting the existing drain, remove its tailpiece and insert a slip-joint T-fitting directly above the trap.
Thereafter, link it to the sinkhole of the two lavs.
Ensure the drain pipe is fixed to the new bathroom sink and should slope a quarter inch for all length.
The slope is useful in evacuating the sink quickly while preventing suctioning of water out of the trap.
However, before beginning the installation, you should check the building codes to know if you will need to install another vent for the new sink.
Normally, extending the drain and supply lines is possible if the vent does not exceed acceptable distance by the building code. In situations where you might need to add a vent, you should consider seeking advice from an expert or a professional organization. Home Staging Houston is the professional group that I can recommend in this case.
Important Components of a Double Sink Bathroom
(a) Fixtures and Fittings
If you are adding a basin to your bathroom vanity, then this is a nice chance to upgrade other components. These include:
 (b) Sinks
This is one of the most important components of your double sink bathroom. Even though you might need to buy two basins at the same time to ensure they match, there are various materials and mounting styles to consider. Among the most popular choices are the bath, lavs are solid surfacing, porcelain over cast iron and vitreous china.
When mounting the sink, there are some mounting styles that you can use. They include above-counter, integral basin, under mount, and self-rimming. Among these options, self-rimming is the least expensive and the most common mounting style.
Integral basin units and under mount lavs are sleek and cleaning them are easier, but their prices are considerably higher. You can also consider purchasing a vanity top that has integral bowls in synthetic marble or solid surfacing.
(c) Vanities
You might also consider upgrading or replace your vanity during a new sink installation. Just like in the kitchen, manufacturers no longer dictate the counter heights. Most vanities are tailored depending on who uses them and how they work.
In most homes where storage and floor space is limited, homeowners prefer tall cabinets. While this is so, higher vanities are quite beneficial in that apart from being suitable for taller users who need to avoid bending over often; they keep away the toiletries from being splashed with water and also offer extra storage space.
If you perform most tasks while seated like applying makeup, then you should consider getting a lower vanity top for your double sink bathroom.
(d) Faucets
Faucets are also important hardware to consider when upgrading to a double sink bathroom. Most high-quality bathroom faucets and handle packages are designed in there configurations which include a single-control set, the faucet and a knob or lever that controls the temperature and water flow combined.
The centre-set control is divided into cold and hot water handles which share the same base with the faucet. A spread-fit control has its three components which include the faucet and two other controls wholly separated.
However, the choice of a set that you prefer mainly depends on the positions and number of holes in your sink. You should always remember that a good model is one that is easy to operate with soapy slipper hands.
Despite the number of activities involved in deciding which double sink style best suits your bathroom to installing it, having a double sink bathroom adds more convenience to your home, something which you will enjoy. 
Conclusion
In conclusion, regardless of the debate on whether a single sink or a double sink bathroom is best for your home, getting double sink bathroom saves you both time and money in the long run, which makes it the best kind to have. You can consider many bathroom ideas and master bathroom ideas, but this one will be a standout.
Having double sink bathroom provides you with personal space, which is useful in keeping your items intact. This is why a double sink bathroom is important to any home. Apart from the benefits that couples who have two sinks in their bathroom enjoy, this feature is also an important selling point. If you decide to sell your house at some point in time, its value will be higher as compared to a house with only a single sink bathroom.
Double Sink Bathroom (Why Own The Model?)
was last modified:
June 10th, 2019
by