*This post may contain affiliate links which implies that I may receive commission if you purchase through the links that I have provided (this happens at no extra cost to you). Here is my full affiliate disclosure.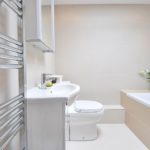 Before you go shopping, you need to understand the idea of the best quality bathroom sinks based on the materials that are used to design them.
Mostly, bathroom sink manufacturers refer them lavatories. A bathroom sink material can influence its durability, appearance, and what is required of you to maintain the lavatory. Here is a brief of the materials that make the best quality bathroom sinks.
Stainless steel is one of the materials that are used in the manufacture of the best quality bathroom sinks. Even though this material is long lasting and unaffected by many household chemicals, use of soap and hard water will have it develop spots.
Another material is porcelain-enameled cast iron which is durable and easy to maintain. On the flip side, the installation of this type of lavatory will require a strong support system because it is quite heavy.
Vitreous china is another easy to maintain material. It has a lustrous surface, resistant to corrosion and discoloration. However, this material is likely to chip when accidentally hit with a heavy object. Cultured marble and any other solid-surface materials are suitable for making the best quality bathroom sinks. The only problem is that abrasive cleaners can easily spoil them.
There are two best materials for manufacturing bathroom sinks that are widely used worldwide. They include:
Let's now explore some of the best quality bathroom sinks based on the materials.
KINGO HOME Above Counter White Porcelain Ceramic Bathroom Vessel Sink
KINGO HOME is a sound example of a vessel sink. In the first place, what is a vessel sink? A vessel sink has a bowl which is designed in a way that it can sit on the top of the vanity or countertop on which it is supposed to be mounted. Such a sink does not have a hole for a faucet.
These sinks are made of different materials, and in this case, KINGO HOME is made of white porcelain ceramic material. We also have copper vessel sinks, glass vessel sinks, and stone vessel sinks among many more others.
How tall does a faucet need to be for a vessel sink? KINGO HOME will give an excellent example of this concept. The sink has a height of 5.5 inches, and it will be reasonable to have a faucet whose height is longer than this. In this case, 9 to 11 inches would be recommendable. In deciding the height of the tap, you have to consider the height of your bowl.
KINGO HOME is one of the best quality bathroom sinks. It has an oval shape which offers your bathroom an elegant and simplistic appearance. The material used to make this bathroom sink is highly durable. Its surface is non-porous and scratch-resistant. The central location of the drain opening enables an excellent drainage system.
Summary Comparison Table
| | |
| --- | --- |
| Pros | Cons |
| Optimized drainage capability | Doesn't have an overflow drain |
| Non-porous surface | |
| Scratch-resistant surface | |
| Has an elegant appearance | |
| Durable bathroom sink | |
CLICK HERE TO BUY FROM AMAZON NOW
VCCUCINE White Square Above Counter Porcelain Ceramic Vessel Vanity Sink Art Basin
In this study of the best quality bathroom sinks, vessel sinks are predominantly featured due to their high functionality and durability. Mostly, vessel sinks that are made of porcelain materials are the preferred choice given that they have an elegant appearance and seamlessly fit on the counter space. From the analysis, VCCUCINE has an easy installation process.
The sink has a square shape which has flared edges. Unlike undermount bathroom sinks, vessel sinks are easy to swap, and this highlights the advantages of owning one of these models.
The sink won't be mounted beneath the countertop which allows a natural swapping process. As I have mentioned above, these bathroom sinks are made of different materials, and you might be seeking the best material for bathroom sinks.
After finding the best material for bathroom sinks, you might need to replace the existing sinks, and the process is less troublesome. You can decide to have a vessel sink made of porcelain like the case of VCCUCINE.
Other materials such as concrete, copper, natural stone, and glass are also highly regarded. VCCUCINE is a pretty comfortable sink when you are washing your dishes. The installation of this vessel sink and the countertop ought to be done considering the height of the user.
Summary Comparison Table
| | |
| --- | --- |
| Pros | Cons |
| Comfortable to work with this vessel sink | Can chip if not well maintained |
| Easy to replace the sink | Allows water to splash |
| The sink is highly stylish | |
| It is a spacious bathroom sink | |
20.9" Rectangle Undermount Vitreous Ceramic Lavatory Vanity Bathroom Sink Pure White
The model has a classic rectangular shape which offers adequate space. It is reasonable to have an undermount bathroom sink because they will always fit seamlessly under the countertop. Though they might have a complicated installation process, they present the best quality bathroom sinks. These bath sinks can offer a seamless outlook in both master and guest rooms.
Porcelain and vitreous china are the two most used materials in the manufacture of both toilet bowls and bathroom sinks. For a long time, these materials have proved to offer the best quality bathroom sinks, and this has inspired manufacturers to keep using them.
In the making of this bath sink, vitreous china material has been used. It is a glass-like material that is aimed to make the bathroom sink to appear more shiny, denser, and durable.
One thing that I like about this bathroom sink model is that it can resist stain formation. Vitreous china material makes the sink scratch-resistant, sanitary, durable, and withstand spills.
Many are the cases whereby people can't differentiate between a porcelain bathroom sink and the one made by a vitreous china material. After reading this post, you can see that each sink has a title depicting its name which mostly tells the material that has been used.
Summary Comparison Table
| | |
| --- | --- |
| Pros | Cons |
| Easy to clean the bathroom sink | Difficult installation process |
| A durable sink | |
| Dense and shiny | |
| Both stain and scratch-resistant | |
| Has a standard drainage system | |
| Has a lifetime warranty | |
| Has an overflow drain | |
Friho 18.5" × 13.8" × 7.9" Modern Rectangular Undermount Vanity Sink Porcelain Ceramic Lavatory Bathroom Sink, White With Overflow
Friho is another excellent example of an undermount bathroom sink, and it is made of porcelain material. Unlike the vitreous china material whose base consists of a ceramic material, this sink has a cast iron.
Porcelain enamel is then used to coat the cast iron material. The porcelain enamel coating on the surface of cast iron is intended to prevent corrosion of the metal material.
From the look of its dimensions, this sink is sizeable to allow you to perform the bathroom chores with ease. It has a suitable drainage opening which helps to prevent water pooling. Even though it requires an undermount installation, the process is not complicated. The model is scratch-resistant and durable.
Due to its high quality, the sink comes with a 10-years warranty. When it comes to clay, porcelain is undoubtedly one of the strongest and hardest materials. Then this explains why the best sinks for the bathroom are made of this material.
Summary Comparison Table
| | |
| --- | --- |
| Pros | Cons |
| 10-years warranty | Sides are not straight lines |
| Undermount installation for a seamless appearance | |
| A durable bathroom sink | |
| Scratch-resistant | |
| A large bathroom sink | |
| Easy to install | |
| Has an overflow drain | |
| A cheap bathroom sink | |
KOHLER K-2355-0 Archer Undercounter Bathroom Sink, White
Kohler sinks are always stylish, comfortable to clean, and sleek. K-2355-0 Archer is an excellent example of this description. People want to own the best quality bathroom sinks that are not only functional but easy to clean.
How do you clean a Kohler sink? You need to understand the material that makes the sink before you decide which cleansing agent to buy. Ensure that the cleaning agent that you are buying does not react with the material.
In this case, K-2355-0 Archer is made of vitreous china material which implies that you have a wide range of cleaning agents to choose. But, are vitreous china sinks durable?
If you buy a sink made of a vitreous china material, be sure that you own a long-lasting model. Then, is vitreous china better than porcelain? It is difficult to do this comparison because both materials are durable, have sleek appearances, and will result in making the best quality bathroom sinks.
K-2355-0 has an incredible depth, width, and length. When you decide to purchase this bathroom sink, be ready to mount the faucet on the wall since it lacks a faucet hole. Due to this, the idea allows you an opportunity to opt for your preferred bathroom faucet which will fit flawlessly with your new quality bathroom sink.
Summary Comparison Table
| | |
| --- | --- |
| Pros | Cons |
| Has adequate size | Might require a professional |
| A durable bathroom sink | |
| Easy to clean | |
| It is stylish and sleek | |
| Highly functional | |
Different Types Of Materials For Best Quality Bathroom Sinks
When we were exploring the different best quality bathroom sinks based on the materials, we might not have addressed all the materials. In this section, we go a step deeper and discuss some of the materials that are used in the manufacture of the best lavatories.
Vitreous China
Just like porcelain and fireclay, vitreous china is a clay-based material. These sinks have a lustrous surface that appears attractive.
If you buy a bathroom sink made of vitreous china material, you don't need to worry about discoloration and corrosion. It is easy to clean the sink and maintain it. Nonetheless, you need to be cautious not to hit the surface of the lavatory hard since this will lead to a crack or a chip.
Glass Material For A Bathroom Sink
The glass used in the manufacture of this bathroom sink is tempered. This means that the glass is processed and treated at controlled thermal conditions to enhance its durability and strength. These sinks are resistant to shattering and cracking which makes them long-lasting. Even though hard water can leave spots on the sink's surface, they can easily be cleaned by the use of household cleaners.
Metal Materials
Metal materials include elements such as copper, stainless steel, and brass. These materials are durable and will not get damaged by hitting. The use of most household cleaning agents will not adversely affect them except for copper.
Copper will need some special treatment because of its tendency to discolor when subjected to alkali and acidic conditions. Generally, most of these metal materials will develop spots with time when you use hard water.
Solid Surface Materials
When the sink's material is the same as the countertop material, this results in a solid surface. Marble and granite are the conventional materials used as a solid surface. The surface is easy to clean and long-lasting.
On the other hand, these materials can be scratched or chipped but can be replenished by the use of non-abrasive household products.
Cast Iron
For best quality bathroom sinks, the encasing is made of solid cast iron, and then enamel is provided as a coating. These bathroom sinks can be designed in various colors and are easy to clean.
The only problem is that when the surface is accidentally stricken, chips will develop which will expose the cast iron. The exposed cast iron will rust.
You can watch the video below to understand the different bathroom sink materials.
Categories Of Bathroom Sink Styles
Bathroom sinks can be categorized into various styles. Vanity, wall-hung, and pedestal styles are some of the most common. We now briefly discuss each bathroom sink style category.
Pedestal Bathroom Sink Style
If you have a small bathroom space, then this will be the best pick for you. These bathroom sinks will not need any countertop material. They are distinctively attractive to bathroom users. Nevertheless, one of the drawbacks of this bathroom sink style is that it lacks storage space.
Vanity Bathroom Sink Style
If you want a lot of countertop space, vanity style will be the best for you. Additionally, there is plenty of space below the countertop which can be used for storage. These bathroom sinks are attached to the vanity using various ways. Mounting the sink on the surface of the countertop is the commonly used way.
The bowl is made to drop through the countertop. For a clean and tailored appearance, bathroom sinks can still be undermounted. If you need a sink whose material resembles that of the countertop, you need to buy an integral bathroom sink. When correctly matched with the vanity, they offer a seamless outlook of your entire system.
Wall-hung Bathroom Sink Style
Wall-hung bathroom sinks are efficient at fitting in small bathroom spaces. If your bathroom space is small, you need to consider buying a wall-hung sink style.
For people with disabilities, this could be the best model. These sinks can be installed at any height which allows people with wheelchairs to comfortably utilize them. An excellent example of this is a console sink which is designed to be supported by two front stands.
What You Need To Know Before You Pick The Best Quality Kitchen Sinks
Since you want to have the best quality bathroom sinks, here are a few things that you should have in your mind.
The amount of space that you have in your bathroom: The amount of space needed to install different styles of best quality bathroom sinks is varied. You need to understand that while some sinks offer countertop space, others don't. Some sinks will provide storage space and others won't. You need to think about the space that you want.
Low or high-maintenance bathroom sink? You can't use any cleaning agent for any bathroom sink. Some cleaning products will cause damage to particular bathroom sink materials and will be suited to others. For example, stone, wood, and metals are much sensitive and won't be handled the same way as vitreous china sink and solid surface. Therefore, it is much recommendable that you understand the care requirements before you go shopping for a bathroom sink style that you require.
Is the bathroom sink designated to be used by low or high traffic? Understanding who will be using the bathroom sink is fundamental. Top traffic bathroom sinks will need durable and conventional materials. For low traffic bathroom sinks, you can decide to utilize delicate sink materials which will make the overall model appear stylish.
Conclusion
All in all, you have seen the best quality bathroom sinks that you can decide to own today. In this article, we have discussed the best material for bathroom sinks. By considering the material, you are bound to have the best sinks for a bathroom. For those who have concerns with limited spaces in their bathroom, there are still best small bathroom sinks that will serve you well.
If you find a suitable model described in this post, you can press the recommended button and buy it from the recommended e-commerce store. Also, if you see this post helpful, you can share it with your friends. Thank you for reading and enjoy your day.
Best Quality bathroom Sinks Based On Material
was last modified:
August 9th, 2020
by