*This post may contain affiliate links which implies that I may receive commission if you purchase through the links that I have provided (this happens at no extra cost to you). Here is my full affiliate disclosure.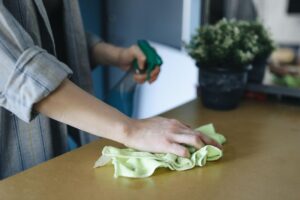 Are you craving that fresh, clean feeling of a new home? There are stains on the carpet, paint is peeling off the cabinets, and the walls are covered in scuff marks and fingerprints from your little ones.
After living in a house for a while, it's normal if your space is starting to feel a little stale and unkempt.
Reviving and refreshing your home is a great way to do away with disarray and turn your home into a healthier space that promotes wellness and relaxation!
Whether you're interested in DIY projects or you're happy hiring a pro, here are some tips from Pizzchzz to help you revive and refresh your home!
Create a Welcoming Outdoor Living Space
If you have a yard or porch area, make some upgrades that will encourage you and your family to use this outdoor space more often.
Summer House explains that being on your patio helps you enjoy the positive health effects of breathing fresh air, soaking up the sunshine, and surrounding yourself with live plants.
Create a cozy outdoor space where you can relax and enjoy your patio. Get some comfortable patio furniture, put up a privacy screen, plant some fresh shrubs, and beautify your lawn.
If your lawn is looking a little lackluster this summer, you can fertilize it to help it grow lush and healthy. Look for lawn fertilization near me to connect with local lawn care professionals in your area.
Be sure to read online reviews and get quotes from different companies before hiring a contractor. You might even be able to find some companies offering deals or credits right now!
Declutter Your Home
Did you know that household clutter can affect your mood, sleep quality, and ability to focus? Clutter can even take a toll on your relationships!
Getting rid of stuff you don't need and organizing the rest will instantly make your home feel cleaner, fresher, and more spacious.
If your house is overwhelmed with clutter, consider hiring a decluttering expert to help you sort through your things so you can avoid getting burnt out. Decluttering can be surprisingly exhausting!
Paper clutter is particularly annoying. If you have a lot of paper documents and records lying around, try digitizing everything so you can get rid of your paper copies.
Just be sure to store your digital copies securely, and include redundant backups in case something happens to your computer.
You can always use online PDF tools to merge multiple document pages into a single file for easier storage and use.
Improve Indoor Air Quality
Believe it or not, indoor air quality is often worse than outdoor air quality, even in industrial city environments.
According to the EPA, indoor air pollutants have become increasingly concentrated in recent years due to airtight building construction and the use of synthetic construction materials, furnishings, pesticides, household cleaners, and personal care products.
Indoor air pollutants have been found to contribute to respiratory disease, heart disease, and even cancer.
Thankfully, there's a lot you can do to improve your indoor air quality. Ventilation is the most immediate and effective way to banish pollutants from your home, so open your windows and let the air circulate.
You can also buy a high-quality air purifier to remove pollutants from your indoor air. Also, try your best to limit your use of synthetic fragrances and chemical cleaners.
Paint the Walls
Painting the walls in your home is a great way to make the space feel fresh and new again.
When you're repainting, keep in mind that certain colors will have a tendency to scuff and show fingerprints more than others. For example, neutral alternatives to white paint can help hide scuffs.
Be sure to choose no-VOC paints without solvents or additives that will degrade your indoor air quality.
Painting is one of those home upgrades that can increase your property value. Keep track of any improvements you make to your home so you can justify a higher listing price if you decide to sell in the future.
Before and after pictures are always a good idea! If you plan on selling soon, pay attention to what buyers in your area want.
A local real estate agent will be able to offer paint color recommendations based on their experience listing and selling homes in your neighborhood.
Everyone wants to live in a clean and fresh home. If you feel like your home isn't creating the atmosphere you want, spend some time cleaning, decluttering, and redecorating. All it takes is a little hard work to fall in love with your house again!
Are you planning a kitchen upgrade? Replacing your sink can elevate your kitchen and add an attractive statement piece to an otherwise utilitarian room. Check out the Pizzchzz website for sink and faucet inspiration!
How to Make Your Home Feel Fresh and New Again
was last modified:
August 22nd, 2022
by