*This post may contain affiliate links which implies that I may receive commission if you purchase through the links that I have provided (this happens at no extra cost to you). Here is my full affiliate disclosure.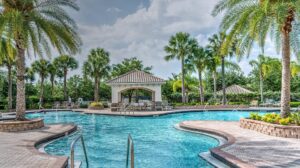 Swimming pools are a great value-addition to your properties and are equally useful as well. Whether it's a poolside party you are hosting or if it's a cool swim you want to take in the middle of a scorching summer, pools are always a good option.
Having said that, even they need as much attention and upgrade as any other part of the house. Either you can do the bare minimum when it comes to safety or you can go all out and get that wow factor in your backyard.
Here are some tips for you to consider when you plan your next pool remodelling project. Let's dive in!
Add Cost-Effective Lighting 
Appropriate lighting brings about the optimal visual or aesthetic of a place, especially for areas like swimming pools. A well-lit pool area is also important when it comes to the safety aspect.
Since the area is going to be wet, lighting comes into the picture to avoid any mishaps and falls. Plus, a subtle lighting experiment will also make your pool area quite Instagram-worthy!
Glow-In-The-Dark Pool Tiles 
While mosaic tiles are extremely popular and ideal tiles for swimming pools, you can also opt for glow-in-the-dark tiles for the same.
When it comes to mosaic tiles, you can choose various tiles in various shades of blue, to give that effect. The mosaic tile reflects light, thus giving you the exact shade of blue.
However, glow-in-the-dark tiles or photoluminescence tiles are also quite feasible. These are hard ceramic tiles and do not contain any harmful or radioactive elements, which means it is also very safe for usage.
They have a long afterglow, high light reflectivity, and excellent weather and water resistance which is perfect for wet areas. It can also be widely used in the ground or on the wall surface of various places, playing a guiding role at night.
Update Your Pool Fencing 
If your pool hasn't been revamped for a long time, the design or the visual appeal becomes quite dated. A remodelling gives you an opportunity to update your pool fencing which gives your pool an instant facelift without the need for major construction work.
Borderless glass, for instance, is a popular option which is also equally safe. Moreover, they do not hinder the view as well. On the other hand, if you like a more screened-off look, modern wooden slats look great and give a rustic feel to the pool area.
Change Your Pool Liner 
Dated pool liners are not only unappealing to look at but are also safety hazards. Pool lining modernises and upgrades the value of the pool as well as your property, at large. They are, however, very cost-effective and also blend seamlessly with backyards and gardens.
Additional Water Features 
A pool in itself is an attraction but with extra water features, it elevates the appeal of the space. For additional water features, you can have scuppers, mini-waterfalls, fountains, and sprayers installed at your pool area.
Cutting-Edge Automated Technology 
Technology has made many things easier in many aspects. Even in interior décor, technology has a huge hand in making interior décor so viable and feasible today.
You can install high-tech automation systems to make your pool area more functional and operable at the touch of your fingers. It makes your life as a pool owner very convenient.
Pool technology can include a self-activating pool cover or a high-tech robotic pool cleaner that you can set up and control through your smartphone.
Consider Natural Pool 
A natural pool is a swimming pool with biological filters and plants rooted hydroponically in the system to clean the water.
Natural pools can add more authenticity with the feeling of being amid nature, almost like swimming in a pond, only cleaner and without harsh chemicals.
This style of swimming pool also appeals to those who seek more relaxation and a shift of ambience. The drawback, however, is that it may not give you the blue tones that swimming pools are synonymous with. It might also need a larger area than traditional swimming pools.
Pools are a great attraction and an investment when it comes to your house as a property. Upgrading them every once in a while only keeps it safer and more durable for a longer period of time.
These are some of the ideas that can bring in a WOW factor to your swimming pool remodelling project. Which one are you thinking of incorporating in your swimming pool?
Author Bio: Isha Tandon has worked within the architecture and interior design industry as a flooring consultant expert – specialising in tiles, stones, and terrazzo. She has worked with Orientbell Limited, a leading tile manufacturer in India, as a product development manager in the design team and has recently joined the marketing team as their digital content expert. Her experience comes in handy in understanding the audience as she creates value-driven functional & informational content for the readers. She creates lifestyle pieces that focus on interior design products, trends, and processes. She loves to travel to historic places with rich architecture.
7 Remodelling Tips To Bring In That WOW Factor To Your Swimming Pool
was last modified:
May 20th, 2022
by