*This post may contain affiliate links which implies that I may receive commission if you purchase through the links that I have provided (this happens at no extra cost to you). Here is my full affiliate disclosure.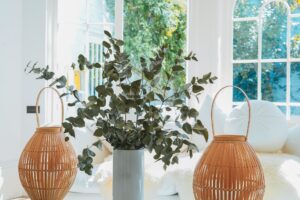 In recent months, many of us have experienced an abundance of unexpected downtime as a result of the COVID-19 pandemic. Quarantining, a once foreign concept to most, has become the norm. Work from home, Zoom meetings, and virtual gatherings have turned into regular elements of our daily routines.
With all of this extra time on our hands while stuck inside, it is possible and completely normal to go a little stir crazy. With that being said, why not use this unexpected spare time to be productive around the house? You might finally have the chance to get to those low-priority items at the bottom of your to-do list or to finish projects you've been meaning to wrap up for a while now.
If you're someone who is looking to make the most of your time in quarantine, check out our list of six DIY quarantine projects to do at home. Continue reading for more ways to keep busy!
1. Create a Home Garden
Adding a small garden to your home is a creative way to do some home improvement that adds value during the quarantine. For many regions, the season for outdoor gardens comes and goes rather quickly, but who's to say gardening can't be a year-round hobby? If you have a little extra space in one of the rooms of your home, try creating an in-home garden by adding a few house plants that are suited to your living environment.
Caring for your plants is a great way to improve upon your gardening skills and can also be very fulfilling as you watch your tiny greens come to life. Adding a few plants to your home is a DIY quarantine project that brings color to your space while also enhancing your well-being. Additionally, purchasing plants from a local nursery is another way to support local businesses in your community!
2. Get Organized
Busy lives and hectic schedules make it very easy for the home to become unorganized no matter how hard you try to keep things in order. With the extra time spent at home, now is the perfect chance to get organized as part of your quarantine projects.
Reorganizing and decluttering an entire home can be a daunting task so it's best to get a plan in place. Start by doing one room at a time and don't move onto the next room until you are completely satisfied with space. As you move from room to room, don't hesitate to get rid of unwanted or unused belongings – this is the time! Also, adding labels to storage bins and containers is a great way to keep your items in order moving forward.
3. Add a Wall Gallery
If you've got some extra wall space that you haven't gotten around to decorating, or you're simply not sure what to do with it, try adding a wall gallery! You can use old photos, new photos, printouts, or, for the artistically inclined, artwork you've created to produce a truly unique and beautiful area of the home.
Once you have the images and frames selected, rearrange them into a layout that fits the wall and is to your satisfaction. Adding a wall gallery is a creative DIY quarantine project that can spice up a blank wall and keep you busy!
4. Restore Your Driveway
The driveway of a home is very easy to forget about despite the fact that it is used nearly every day. We tend to focus more on the inside of a home or even the backyard, and improvements in those spaces often take priority. However, it's crucial to remember that driveways require maintenance too.
Sealcoating, crack filling, removing oil stains, and regularly cleaning your driveway are all important ways to maintain the surface and increase its lifespan. Plus, all of these tasks can be done yourself, on your own time, and on your own budget. With the right tools and materials, this potential quarantine project can actually be done by homeowners themselves!
5. Repurpose Old Furniture 
Many people have unused or outdated pieces of furniture in their home that they have never had the time to replace or address – until now. If you're looking for a creative and affordable way to keep yourself busy, repurposing furniture is the ideal project for you.
Adding fresh paint, new knobs, or finding a new function for the piece is the perfect way to refresh a room or space. Not only can you give these items a facelift, but such work helps to make these pieces more personal, giving you something you can really treasure.
6. Get Painting
Is there a room in your home that you've been meaning to paint? Maybe you have some walls that could use some freshening? Since touching up the old paint on our walls or adding new colors to the home is not always a top priority, such tasks can often get delayed for months or years on end.
However, with a little extra time on your hands now, why not get your walls looking sleek and clean? From front doors to accents walls, a fresh coat of paint can do wonders for the home!
Make the Most of Your Time at Home with DIY Quarantine Projects
Next time you are feeling bored in the house or looking for another home improvement quarantine project, be sure to try one of our DIY ideas. While we all might not be used to having so much extra time at home, it's important to appreciate it. Make the most of your downtime now because it is in fact a luxury we won't always have.
***
Molly Downey works with UNIQUE Paving Materials, a premium supplier of asphalt and concrete repair materials. She's also a home improvement enthusiast.
6 DIY Projects to Knock Out Under Quarantine
was last modified:
January 18th, 2021
by