*This post may contain affiliate links which implies that I may receive commission if you purchase through the links that I have provided (this happens at no extra cost to you). Here is my full affiliate disclosure.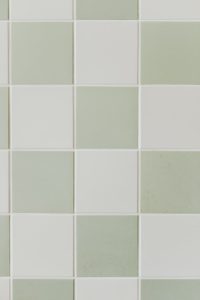 Are you looking for the best flooring option for your kitchen? Ceramic tiles are one of those options that should come to your mind. These tiles are a popular product for any kitchen flooring as they normally come with many benefits that you cannot find in other tiles out there. But how do ceramic tiles compare to porcelain tiles?
You will note that they normally bring both the design and functionality of the room. One advantage of these tiles is that they normally come in a wide variety of sizes, colors, and styles.
Therefore, you will have an easy time choosing the ceramic tiles that suits the design of your kitchen. They are a good option if you want to remodel your kitchen.
Why should you use Ceramic Tiles for Kitchen Floors?
The following are the reasons why ceramic tiles are good for the kitchen floors:
1. They do not harbor germs
Your kitchen might be prone to dirt if it is normally used by many people. These germs can remain on your floors for longer if you are not fond of cleaning these tiles regularly.
However, if you have installed ceramic tiles in your kitchen, they will not harbor these germs. This is because the hard surface of these tiles is usually impenetrable.
If you have pets or kids, you can be sure that they will not get ill even if they crawl on your kitchen floor. All you need to do is to mop them to lift off any dirt that might be present on these tiles.
By mopping, you will be able to get rid of debris, germs, and other elements that might be resting on the surface of the ceramic tiles.
2. Easy to clean
Sometimes, cleaning your kitchen can be a daunting task. You might have to take more time if you have to clean the counters, tiles, and even cabinets.
However, if you have installed ceramic tiles, you will have an easy time cleaning the floor of your kitchen. The hard surface of the ceramic tiles is very easy to clean.
All you need to do is to mop it regularly and you will be able to maintain these tiles. Therefore, these tiles are a great choice if you have allergy sufferers in your home.
If you can use a heavy-duty cleaner regularly, you will be able to eliminate the harder stains and be able to restore the original look of the tiles.
3. They are long-lasting
Are you looking for crack-resistant tiles? Ceramic tiles are the ultimate choice for you. Once you install them, they are likely to remain in good condition for many years. This makes them durable wherever they are used, be it in the bathroom or kitchen.
You will note that these tiles usually feature a glazed surface that provides an added layer of protection against stains and drops. Due to their durability, most homeowners usually refer to install these tiles in their kitchens.
4. They come in a wide range of styles
Different homeowners usually have different needs. One benefit of buying ceramic tiles is that they normally come in a wide array of colors and sizes. Also, they come in different styles.
You can, therefore, choose the option that speaks to your personal design aesthetic. With these tiles, you will be able to keep it either contemporary or classic. This versatility makes them a good option for your kitchen.
5. Water-resistant
The kitchen is an area where water is highly used and can spill on the floor from time to time. These tiles will be able to hold up strong against water and in the unfortunate event that your kitchen experiences floods or water damage issues. Since they are impervious to moisture, they are an ideal option for your kitchen.
6. They are cost-effective
If you are planning to install some tiles in your kitchen, you should set a budget for it. This is because some tiles can be expensive.
However, for ceramic tiles, you will be able to remodel your kitchen at a relatively lower cost. This is because these tiles are both affordable and durable.
They are relatively cheap to purchase and can last for many years. This means that you will not need to replace them now and then. Here, you will be able to save on maintenance costs that you could be spending on other kinds of kitchen flooring.
7. They are a green option
Nowadays, there is a lot of emphasis on going green. This will go along a long way in preserving our environment and ensuring healthy living. The use of ceramic tiles is a good way of going green. First, the production of these tiles does not require toxic VOCs.
Also, you just need some warm water and mild soap to clean them. Therefore, you will not need to use harsh chemical cleaners that might harm the environment in the long run. This is the other reason why you should consider ceramic tiles for your kitchen flooring.
8. Ceramic tiles are easy to install
If you want to install these tiles, you will have an easy time doing it. When installing them, it is crucial for you to install them over a subfloor. This floor needs to be smooth, clean, and flat. All the edges should be straight so that grouting can be easier for you.
Besides, you should ensure that these tiles are of the same size when buying them. You can readily do this on your own or hire an expert to do it.
It all depends on your skills when it comes to tile installation. Besides being easy to install, you can easily remove them whenever you want.
9. Aesthetic value
We all like having a beautiful kitchen. Since ceramic tiles normally come in different designs and patterns, you can trust that you will be able to add color and look to your kitchen. This will go a long way in improving the aesthetic value of your kitchen as well as fetch in a lot of compliments.
Cons of Ceramic Tiles
However, ceramic tiles normally have some drawbacks. For instance, their hardness can make your feet and joints start aching if you stand on them for a longer period.
Therefore, there is a need to place a cushioned mat (kitchen sink floor mat) where you normally stand for long hours such as the sink and stove area.
Besides the discomfort, these tiles can be extremely cold during winter. However, if you have some slippers or a pair of socks, you will remain warm for longer.
Conclusion
Since no flooring that doesn't have its own drawbacks, ceramic tiles have more pros than cons. Therefore, they are a good option when you want to remodel your kitchen. These tiles will last for many years and make your kitchen look more attractive. Install them today and you will add style to your kitchen for many years to come.
Are Ceramic Tiles Good for Kitchen Floors?
was last modified:
May 24th, 2020
by